Scaling and growth are often incorrectly used interchangeably, as they're seen as being very similar processes it can be hard to separate the two and distinguish between them both. This article will develop your understanding of the two and enable you to differentiate between the two to help set yourself direct goals.
It's important to know which to focus on between growing and scaling as a company, Harvard business school research results show that half of all start-ups will fail after the first 5 years of being formed. These figures rise to 70% following the 10 year mark which highlights just how important it is to really understand how growth and scaling are separate processes and which to set your attention to for maximum success.
To put it simply, Scaling refers to an increase in income at a more rapid rate than costs rising whereas growth usually involves the increase in resources at the same rate as revenue. Failing to grow as a company can be catastrophic however it can be equally as damaging if there isn't a focus on scaling up. Companies must be strategic with when to focus on scaling and when the focus should shift to scaling as 2/3 of the fastest growing companies result in failure. It also must be notes that Growth must occur before a business is able to scale up. This is because once a business has managed to grow substantially, it should then be able to be able to manage profits and other factors more efficiently – enabling them to scale.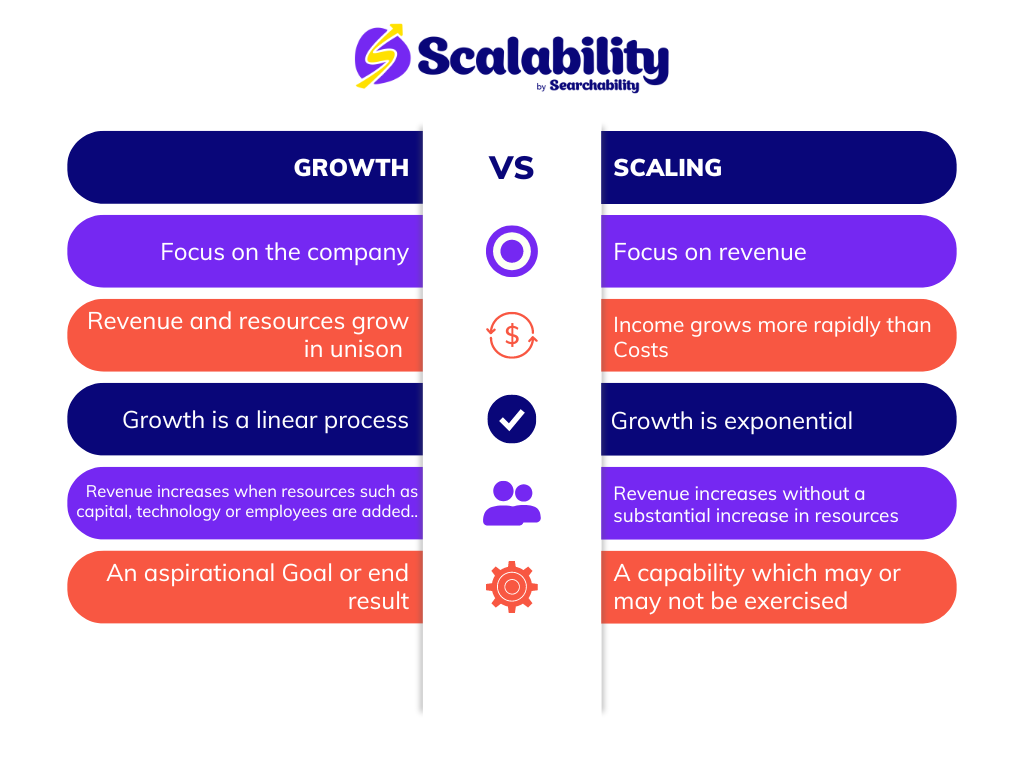 How to tell the two apart:
Both growth and scaling up are vital processes in the success of a company, deciding which to focus on is pivotal for your company. The goal of growth compared to the goals of scaling are both slightly different so here's a few ways you can tell the two apart:
The Company's Priority:
With growth, the company's priority will be to attract customers or business in traditional ways such as introducing offers and different promotions in order to meet demands. Whereas if a company is scaling up then they will usually turn to more modern platforms such as social media or mass emails taking a more holistic approach.
Overall Gross Profit:
The gross profit when a company is focusing on growth is usually fairly low as they're spending vast amounts on resources like new employees to help meet the demands of the growth. In contrast when scaling up the company will focus on consistency and as they focus on their existing employees capability and utilise their skills rather than hiring masses of new people, they therefore have minimal spending's so their gross profit is extremely high.
Growing a business
Business growth involves a business generating an increased amount of revenue and resources such as employees, offices, technology etc. In order for a company to be able to grow these increased resources must be managed in an effective way, an example of this would be hiring more people if your current employees are being overworked or bringing in contractors to specialise on a particular upcoming project you have in mind for the company that would be too difficult for your current employees to complete. This therefore would increase the amount of money spent on.
Why not try one of these 5 ways to help accelerate the growth of your business:
Research the market you're targeting.
Increase levels of customer retention with a CRM system ( Customer relations management system).
Form strategic partnerships with people experienced in a similar field.
Ensure you hire the correct people for the business.
Focus on social media to grow your presence and interact with more potential future clients / partners.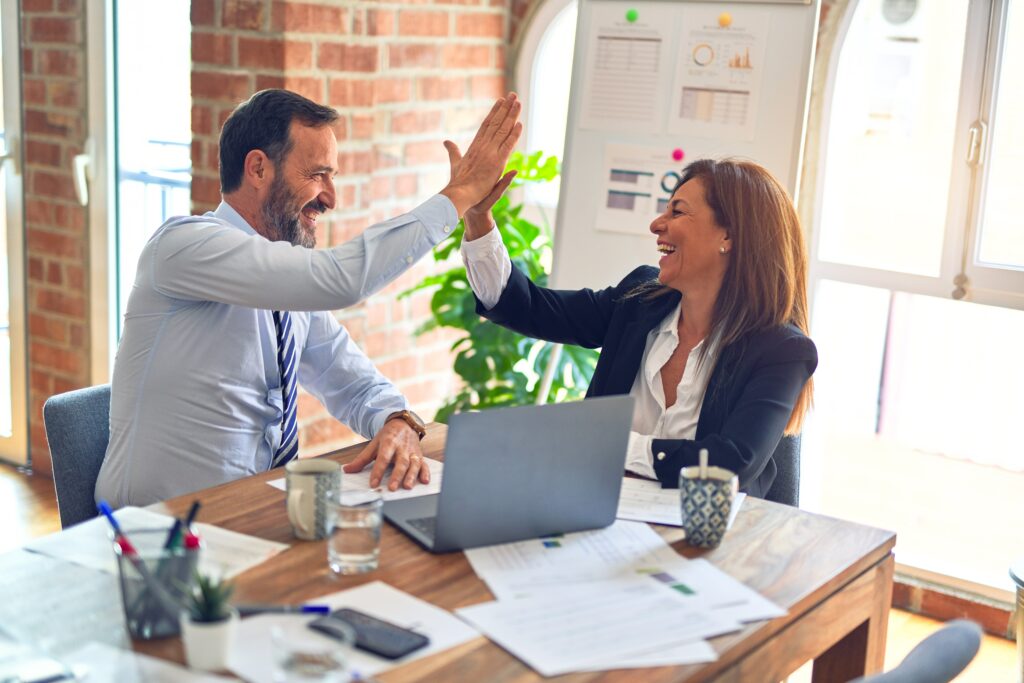 Scaling a business
Scaling a business involves the increase of revenue while resources such as time and money remain at a minimum level. Here at scalability we have comprised a 7 step plan of how to scale up your business with ease as shown below. This involves identifying your growth objectives to set yourself a timeline of how long you want to focus on scaling up for and which skillsets you want to utilise.
Next key feedback is given by the team at Scalability including interview availability and giving feedback on CVs. After this dedicated recruitment and employer brand professionals from Searchability will immerse themselves into your scale up journey and help you reach your targets. After this our Accelerator fund will be discussed which is unique as it allows you to adapt your payments based on how much you'd like to spend and when you'd like to pay it, it's flexible to make scaling up even more accessible to almost any business.
Following these steps the hunt for the top talent for your company will begin with our specialist recruiters finding the best candidates to help reach your scaling goals. To help set your company up for long term success we also provide recruitment marketing and employer branding to attract the right candidates and future business partners.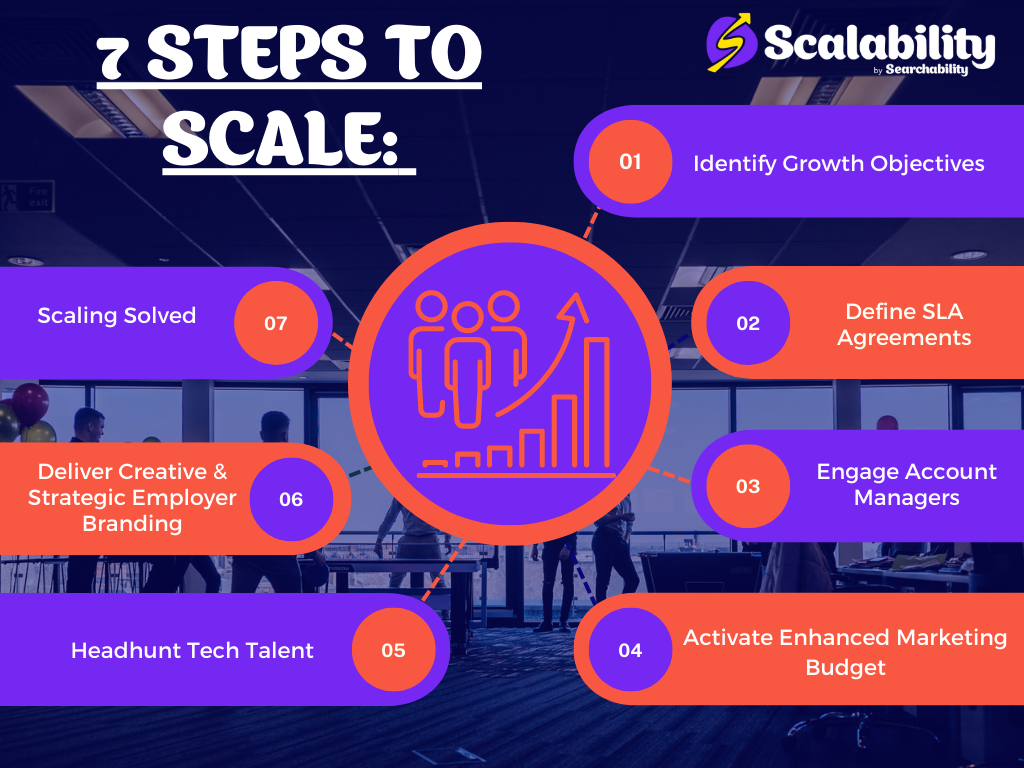 Hopefully now you know the difference between scaling and growing your business. If you're looking to scale up then why not get in touch with a member of our specialist team who can help you grow your tech team at an accelerated pace.
No matter what your scale-up ambitions are, our team of experts will immerse themselves into your brand, uncover your key talent insights and activate a series of campaigns to ensure you attract the best technical hires.
Ready to Scale? Get in touch